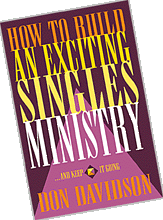 How to Build an Exciting Singles Ministry

by Don Davidson. The author, a singles pastor and former editor of the SAMI (Single Adult Ministry Information) newsletter writes this book to provide practical steps and ideas on how churches can create singles ministries that are exciting and stimulating for the single adult. The book is filled with fresh ideas on most every aspect of singles ministry and can be used by churches of any size to build a vibrant and successful singles program. Of particular value are the chapters that deal with ways single adults are different from married adults, building an exciting singles Sunday school class, various ways to publicize the programs. Another unique feature is the appendix where the author lists 10 Key Observations and 20 Cardinal Rules for working with singles.
The 16 chapters are divided into two parts: 1. Getting Started and 2. Practical Programs. Some of the chapter titles are: Single Adult Ministry and the Local Church, Important Things to Understand About Single Adults, the Single Adult Leader, Starting a Single Adult Ministry from Scratch, The Planning Process, The Value of Good Publicity, The Matter of Money, General Administrative Tips and Suggestions, The Single Adult Sunday School Class, Support Groups, Activities, Service Projects, Fundraising, and Single-Parent Families.
From Thomas Nelson (Nashville) in 1993, this 204-page book sold for $12.99 (trade). This book is sold out but the author still has some copies. For current pricing and shipping, please contact Don Davidson, the author, at don777@swbell.net.